Empower's student Sunil Dave has cracked the IBPS PO exam. He has been alloted the bank of his choice Dena Bank.
Sunil, an excellent cricketer who has also represented Rajkot district as well as his college and University at various tournaments, talked about his strategies for the bank exams. Excerpts: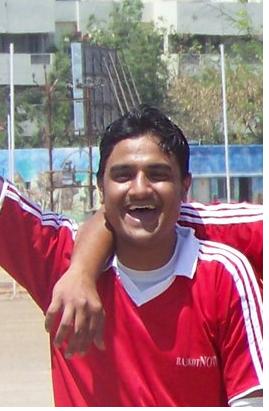 1. Please accept our congratulations Sunil for your success. Could start by telling us something yourself?
First of all thank you so much sir for your constant guidance. I am an M.B.A. from marketing branch. While I was in college I was thinking to build my carrier in banking industries particularly in public sector.
2. Your family and your friends must be proud of you. Any special moments with your family/friends during the preparations/selections?
Yes, sir. My parents are very happy with my achievement. And also my friends those who are with me in all my hardship and motivate me. I did not get place in 2011-12 clerical but after PO's result my father said me "Der aaye par durast aayee"- so he had happiest moment for his life.
3. You must be happy on being selected as a Bank Officer. How does it feel?
For me the dream comes true. All my hard work and passions turn in to success. It is great feeling.
4. What or who people / factors contributed towards your success?
Always my parents supported my decisions and I faith in myself, obviously mayank sir is my mentor and who show me the path to achieve my goal. My bench met who thoroughly been with me in preparation that is the main motive to creak bank exam.
5. What was the special part at Empower you liked the most?
Being a student of empower and with the guidance of sir may all thing should cover but with that constant discussion on every mistake, the way handling the pressure during papers, how to make certain changes in thinking, attempting the live mock paper with sir how he actually think on every questions. With all this difficulties how students can get best solution that empower did in my preparation.
6. Can you tell us a little about how you prepared and how did you divide your time in studies and other commitments?
My 1st and for most commitment is my exam and everything is secondary. I divided my day in two sessions for calculative subject that is mathematics and reasoning in evening and other subject in the morning. For mathematics I used R.S.agrwal and for Reasoning materials given in the class. For computer I just used to read old papers, for current affairs using websites like gk2day, all banking solutions and competitive success review magazine. Some time I used to see videos of different terminology of banking in YOUTUBE.
7. Can you tell us something about the strategy you followed for the practice papers and the actual IBPS paper?
I try to write a time based test of one section daily and from that I actually prepare blue print of my papers. At empower I used to implement my strategy which I prepared during a week in the exam and use trial-error method at every paper to attempting different sections at each time, from that I rectify my errors and at last two weeks on alternative days I wrote a full length paper. I think I wrote around 10-12 papers during three month of time. So at IBPS I want just repeat the thing which I did in last two weeks.
8. Could you tell us something about your interview?
There are questions started from my family background, occupation of my parents.
Next question was about my education- which faculty you had completed your Masters.
One question from my final project i.e. how you will decide sample size? What is your population size?
Who is father of societal marketing? Capital is a asset or liability? What is AADHAR CARD? What kind of documentations is required for aadhar card? What is main purpose of aadhar? What are prime sectors in banking products?
9. Any special preparations for the interview?
I used to go at banks and asked some of the officers regarding interview and also sir given me set of questions these are my main material for interview. I also search old interview and its technique in YOUTUBE. Some of good interviews uploaded by the bank faculties so that is good stuff for me. For particular banking knowledge I took a bank website as an example and whatever mentioned in its website I refer all the data.
10. Apart from doing so well at competitive exams you are also a skilled cricketer who has played for Rajkot and University. Can you tell us something about that side of your personality?
Even if I am tired, my friend calls me for a match I would go to play. It recharges my tempo. It's my first love of life. I specially see cricket match to build up my confidence where anything can possible up to last ball. Sometimes last ball six can win the match so do not lose hope till the end.
11. Any special activity / operation in business you would like to specialize in at DENA Bank?
I want to learn specially advances and promotional activities where I employ my interest.
12. Saurashtra has only recently seen a good number of selections at bank PO and clerks. Any tips for your juniors?
Yes sir definitely Saurashtra has showed lots of hunger in jobs. Saurashtrian has wit, and strength but lack of persistence.
Students must require proper guidance, so they have to continuously connect with sir. With that proper planning for subject wise preparation, working on improving your weaker area, increasing speed and constant hard work because bank's exam is mainly depend how much you prepare for that. It's time game and not a intelligent test.
13. Any special future plans?
Future plan is to fruitfully complete probation period.
Specially thanks to Mayank sir for constant guidance and motivation.